The annual Old Boys v 1st XI football match at the weekend ended in triumph for the Old Boys.
The overcame an excellent performance from the 1st XI to win 5-2 (3-2) with goals from Jeremy Geurts (2018), Jordan Kimpton (2011) and Luke Lyndon (2018), along with 2 unfortunate own goals!
For the 1st XI Kaze Matheson (13MM) finished an outstanding 1st XI career by scoring twice in the Old Boys fixture. Incredibly he started it the same way he ended it, as he also scored twice in his first XI debut in the corresponding fixture in 2016.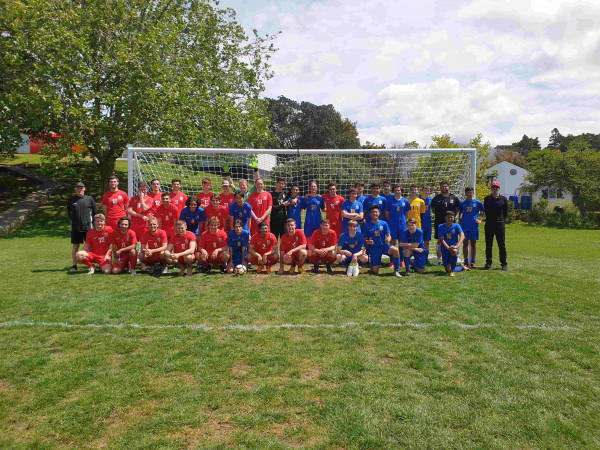 BACK ROW: Paul Hewson (TIC football), Johnathon Underwood, Ethan Wingfield, Brandon Mahuika, Oskar Burgess-Roy, Jack Taylor, Shane Norton, Niklas Petersson-Fox, Jerome Goode, Kaze Matheson, Kyle Medemblik, Nathaniel Coneglan, Jack Markham, Nathan Read, Micah Rogo, Kian Haarhoff, Jonty Whitaker, Damon Norton, Connor Westbury, Lucas Brindley, Rob Williams (coach).
MIDDLE ROW: Ben Nunnerley, Alejandro Gallardo, Luca Taimana, Louis Gray, Kaiyu Parr-Whalley.
FRONT ROW: Scott Underwood, Miller Christensen-Yule, Jordan Kimpton, Bryce Lowen, Jeremy Geurts, James Scott, Yuki Utsugi, Luke Lyndon, Johnny de Silva, Quinn de Silva, Quang Nguyen, Noah Curtis, Shiv Nair.
Check out the match action in the gallery below.